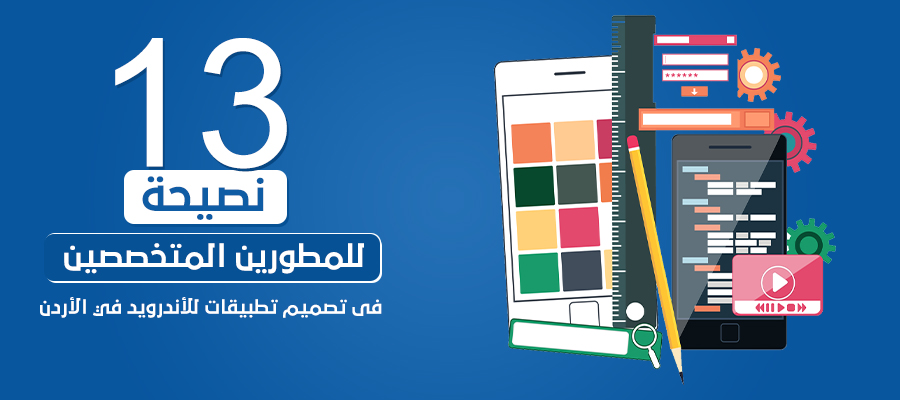 13 advice for developers specializing in designing applications for Android in Jordan
The smartphone revolution has taken over the market after it increased efforts to provide a great user experience for the customer through the applications provided.Jojan Solutions, the best programming company that designs Android applications in Jordan, rallied when people talked about these Android smartphones. A coherent system that has captured more than 80% of the world's market share, so Android is the only reason that smartphones are everywhere we know, and Android makes it very easy not only for its users, but even for its developers, because it is open source technology .
Learn about the latest trends
Knowing the latest trends is very important, because that is what will tell you what users usually expect about the features of the app today.As technology advances you need to think about all your options and be knowledgeable about some winning ideas for mobile app development.
Snap users to design the app
Your app should impact users the moment they first see it on Google Play, where nearly 2.2 billion apps are stored in Google Play, and for excellence you must make a double effort to build as visually appealing a product as possible, Google can tell you all the guidelines Related to the principles of good design for the best design applications for Android in Jordan.
Participation in communities
Regardless of any doubt you may have about developing an Android app, which Jogan Solutions can do, you can also make sure someone gets a certain answer, and as Palomar told us: "Communities are an ideal place to learn about common interests, also you can find A business opportunity or a partner to start your own business. "
The best way to gain the trust of users is to listen to users
The best way to gain users' trust and loyalty
This is the best way to gain user trust and loyalty.You can make the user base grow every time you care about what they have to say about your app from the best Android app design company in Jordan, and you can have the opportunity to make some adjustments and provide a better product for them. So keep in mind that users always appreciate hearing them.
Be confident in your idea
If you are an independent developer, this is the first step to success, the idea of ​​the application may be simple or value-added.After research, identify the most important things the app offers and think about what you want to invest in, so feel free to make your way to success.
Criticize yourself
Believe in yourself but be the first to criticize your work, and always ask yourself why someone should install your application ?, This may be the most important question you need to ask yourself as an Android developer after Gogan Solutions has designed applications for Android In Jordan, so you should set your goal from now to make life easier for users, that's your main goal you should always strive for.
Save your business day by day (Portfolio)
Whether you're self-employed or wanting to find a better job, it's important to create samples of your work, especially if you're a new Android developer.This is the way you can do your software and show all those things you can do.
Understand Android Market
You should also know how Android users behave normally.It is true that Android has more users than any other operating system in the world.However, they don't pay what iOS users pay, but they're more likely to download apps that follow the Freemium model. Most of the revenue from the games, and it is very important to understand all these elements to plan a strategy that best suits your product, and this can be achieved from the company Jogan Solutions interested in designing applications for Android in Jordan.
Study your competitors
If you want to earn revenue for your app idea, you should know which apps have already been released to the market and learn from them, and know what their unique features are from the rest of the apps.This can help you put a better price on your app or think about things That you should work on.
Don't give up that easy
None of the most successful application development cases occurred overnight from companies interested in designing apps for Android in Jordan, so you should persevere, learn from your mistakes, get some feedback or even try new things to solve the same problem.You can always learn those mistakes from Applications that failed.
Find your passion
It's worth remembering that it's easier to work on a product if you believe in it.Once you've identified the problem and the workable solution, start convincing yourself that you're capable of solving it.If you find your passion, you're more likely to create a truly unique app.
Think deeply
As Palomar stated: "You need to think that the app will be downloaded by hundreds or millions of users," so scalability is important for technical and mental reasons as well.
Test the app as much as you can
As a general rule, you should not launch your application without any pre-testing. Repeated tests for each stage of the Android app development process in Jordan are necessary to make modifications, fix possible crashes, or improve UX and UI.