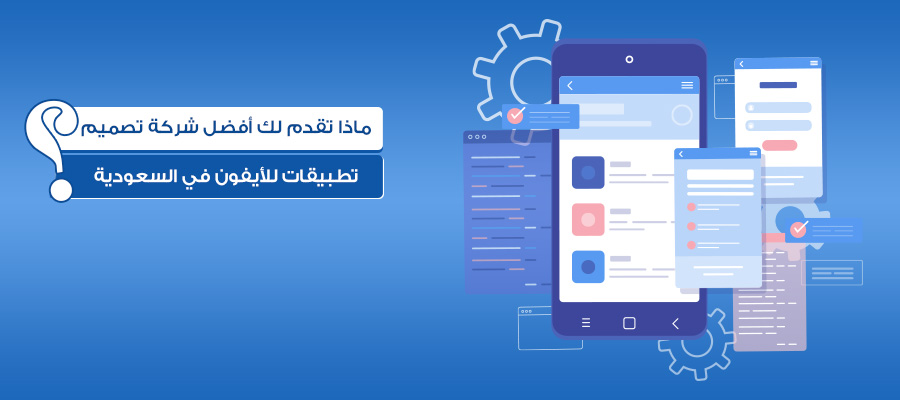 What does the best iPhone design company in Saudi Arabia offer you?
Reaching potential customers is one of the most profitable ways for business people, because developing mobile apps through the best iPhone app design company in Saudi Arabia is not an easy task, and it will be more difficult if you want to integrate some special features into the app, Designing schemas, ensuring code is working for the desired frame and maintaining control flow are just a few things to keep in mind to ensure a high-quality user experience.
What are the benefits of mobile apps for your business?
Mobile apps are highly sought-after by consumers and businesses across the country's interested regions, so mobile apps are useful to all those who use them or create them by filling the needs of both parties involved. Imagine giving customers everything they need to know easily At their fingertips, companies with the most successful apps provide easy access to items in stock, contact information and directions to the store's location from where the consumer is and finding quick ways to schedule, reminders, scan and chat with the representative Lynn and announcements of special events and coupons, this is what offers you the best application design company for iPhone in Saudi Arabia.
Why should you invest in developing your iPhone app?
Mobile applications allow new businesses to have a greater presence in social media and networks such as Gogan Solutions, which allows you to do so.There are no "unwanted folders" to dump a message from consumer vision, and with this handy feature, Social media marketing for business to a new level, and fast mobile apps that work whether someone is connected to the Internet or not.These apps use the device's internal hardware system that helps enable features like push notifications and view them directly on the customer's home screen. Article offer you how to take advantage of the development of applications for non-programmers through better design company applications for iPhone in Saudi Arabia.
What has Googan Solution provided to business owners?
Googan Solutions's premium apps also allow you to be creative in how they reach their customers, using games, camera apps, and scheduling capabilities that are the maximum when creating mobile apps from iPhone Apps in Saudi Arabia as Googan Solutions, They include the best results generated from the mobile app on different placements in the customer's life that the company would normally not get without the app, and mobile apps are one of the best ad formats right now, increasing business clarity Accessibility, selling through technologies, and exposure to other consumers who own a mobile device by replicating their investment business, by enhancing the company's service or brand that is seen daily by customers on the road.
What's the point of developing mobile apps for your business?
The benefits of business mobile apps are tremendous, and more affordable than you might think.Customized mobile apps are gaining momentum in the mobile market.According to reports, about 7.5 hours per employee per week is saved by using custom mobile apps. 82% of business owners would have helped them earn additional business revenue.
Custom mobile apps can be customized partly or wholly to suit your business needs, and are changing to address a specific audience rather than providing a solution that meets the needs of a large group with different requirements. .