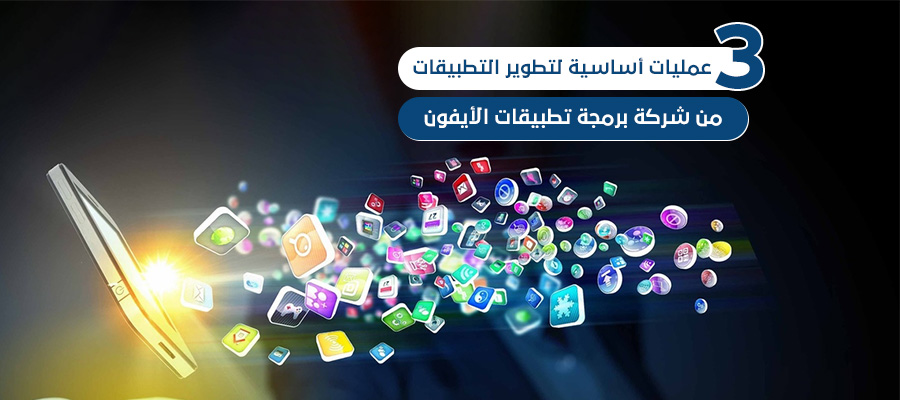 3 basic application development processes from the iPhone application programming company
According to recent studies, most people spend their time connecting to the Internet via mobile apps, and most companies or organizations, including Jogan Solutions, the best iPhone application programming company, focus on providing their products or services through online platforms, especially mobile applications because our world has become digital, and companies that You want to promote your products or services quickly and easily using mobile apps when compared to websites.If you are looking for the best mobile app development company in Saudi Arabia, your business will end with integrated informatics
Is Googan Solution the best iPhone application programming company?
Gogan Solutions is a leader in mobile application development among the application development companies to create innovative and customized applications, so we follow the latest technologies and the most advanced development processes to ensure that our customers have an advantage over their competitors, so our extensive experience will help us in the design of Android and iOS.
So, "Jogan Solutions" iPhone application programming company is one of the companies that are interested in developing the most famous mobile applications known in Riyadh in particular, and in Saudi Arabia in general, we provide application development services through a team of skilled and talented application developers and we use the latest technology to develop powerful applications For different customers around the world, no matter what industry your company belongs to, we can develop applications based on your requirements, our developers are fully committed to developing these apps with attractive features.
Gogan Solutions iPhone Application Development Processes:
Design phase:
road map
System architecture
Requirements analysis
Discuss the concept and design strategy
Development Phase:
Technical Specifications
Application development
Delivery stage:
Test the application
Final delivery
Why is Googan Solution interested in developing mobile applications?
Mobile Application Development in Googan Solution iPhone Application Programming Company is not as relative as in other companies, our competence in all aspects of application development has made us the leader in the development of applications in Saudi Arabia, and our firm faith and confidence in our customers helps us to distinguish between competitors, and for these Reasons We are the first choice for our customers without any second thought.
What is the best mobile application development company in Saudi Arabia?
Googan Solution is an iPhone application programming company specializing in web and mobile services specializing in e-commerce, iOS and Android applications, and designing and developing responsive websites for mobile phones, tablets or both, so all business owners are always trying to attract customers to their business. Easy to attract customers to business using mobile applications.
Our application development services include:
Android Application Development:
It is one of the best platforms that will be used to develop applications, we have already developed and provide application solutions that fit all business, so you can use Android application developers to develop your application to turn the application idea into reality.
IOS / iPhone application development
We are highly efficient in developing IOS applications and connecting iOS applications for small, medium and high-end businesses in Saudi Arabia.We also develop applications on common platforms and windows and using other technologies as well.
Delivery time of applications
Reliable software teams and professionals for private technology projects.We analyze your project and connect you with the application, marketing and software experts that suit your needs, and since then each organization has rich business operations not only in the home country but also in the host country.
In general, if smartphone applications are developed, they will have a specialized taste for customers, which is why the demand for hiring the best and cost-effective mobile application developer is also increasingly remarkable, and many companies have established their business internationally for more customer engagement, so in When developing mobile applications, there is more than one service globally deployed to provide better and more convenient services and solutions to customers.
The following is a list of our services:
Android Application Development
IPhone application development
Website development
UI / UX design
Develop e-commerce application
Enterprise Application Development
Develop the startup application
Customized application development
Mobile App Maintenance
Now, what makes us the best application development company in Saudi Arabia is the experience of developing successful applications in that region, we have risen to various categories and we have the ability to achieve justice at any opportunity coming to us.
Conclusion:
Apple's iPhone is the most popular smartphone in the world, so Jogan Solutions seeks the best iPhone application programming company to help you get the most out of your phone, through applications that give you a good space of freedom and enjoy everything related to your phone to use in Almost anything these days, so we provide you with a list of the best iPhone apps, making your life simpler, easier and more enjoyable.
what are you waiting for? Connect with us now to get the best app for your iPhone