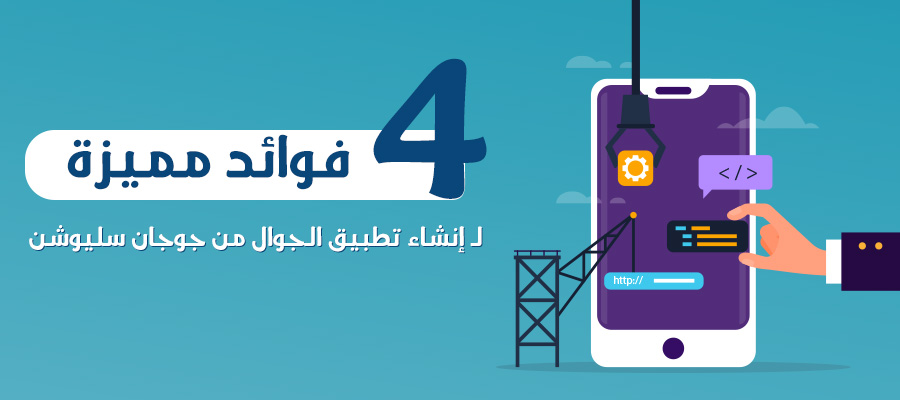 4 distinctive benefits of creating a mobile application from Googan Solution
We have started the era of mobile phone in previous years, with more users, where there are millions of users of these phones in all things including services, products and even supplies to be absorbed in all forms of mobile devices such as tablets and tablets, so any company can Bid to your customers through your business, as they will move to create a mobile app and mobile-friendly sites.
So every business has to have a website. In fact, most companies have at least one website that works, but we can't say the same about apps. A number of studies by Oracle and Mobile Smith have proven that more than 60% Users prefer mobile apps on mobile sites to buy online, if you work for a company that sells products, owning the app is much more useful for a responsive website.
We also believe that having enough sites to enhance user engagement or improve your productivity, it is imperative that companies soon need to think about developing mobile apps to stay ahead of the competition, but why should a company build an app? What are the main benefits of mobile applications on mobile sites? We have thought about it for a long time and listed nine compelling reasons for you to create a mobile app.
First, fast performance
Applications are typically 1.5 times faster than mobile websites, and they store your device data and can be retrieved faster or in the blink of an eye. In the case of mobile sites, data must be fetched or fetched from web servers A few seconds to a minute depending on network speed and file sizes.
Another reason is that mobile sites use java script to run functions and applications running on frames that can be up to five times faster than others, since all this happens at the back end, so users will be able to perform actions Much faster on the front end, which will delight them with a smooth and simple experience and better performance.
Second, the application is intended for the user
It's been noted that users love personalized content for their very own customized experience, as it is like providing a personalized connection to them in the language they speak and understand. User-centered customization is critical to making their experience enjoyable, as this customization can be based on user interests, behaviors, location and culture. Etc., and creating a mobile app makes it easy to meet your personal experiences.
Creating your own mobile app can allow users to clearly set and set their preferences from the start, based on what can be offered to them on demand, and the app will monitor their commitment and behavior to make personalized recommendations and filter updates to them by their physical location and on time, since creating apps It's not just about customization, it's also about selling your products and services.
Third: Use the application without the presence of the Internet
Mobile apps provide seamless experiences with their ability to work offline.All mobile apps provide instant one-click access, allowing users to consume their content quickly providing a seamless experience by storing vital data that is accessible offline Also, some applications such as banking, storefronts, retail, finance, games, and news are also offline, so downloading a news item or game can be read or played offline, which is great.
Ability to work offline is the primary difference between an app and a mobile website, while apps need an active Internet connection to perform important tasks such as payments and notifications, but still provide basic content and functionality to users even in offline mode. Applications
Fourth, use the same mobile features
Creating a mobile app has the added advantage of encoding an application to use various features of your mobile phone, so once downloaded, they can use features such as a camera that can scan PFDs, QR, Bar and NFC codes for use in batches, GPS can be used to connect to maps and other services, accelerometers and a meter The gyroscope and compass can be used for thousands of different purposes, as we are seeing the appearance of scanned fingerprints on devices that have not yet been explored and exploited for many applications and solutions.
Another added feature is that device features can dramatically reduce the time it takes users to initiate, implement, and change the way a user interacts with your device and apps, and the iOS, Android, Xamarin, and Hybrid platform coding have the distinctive features and standards used by mobile app developers To beautify the user experience.