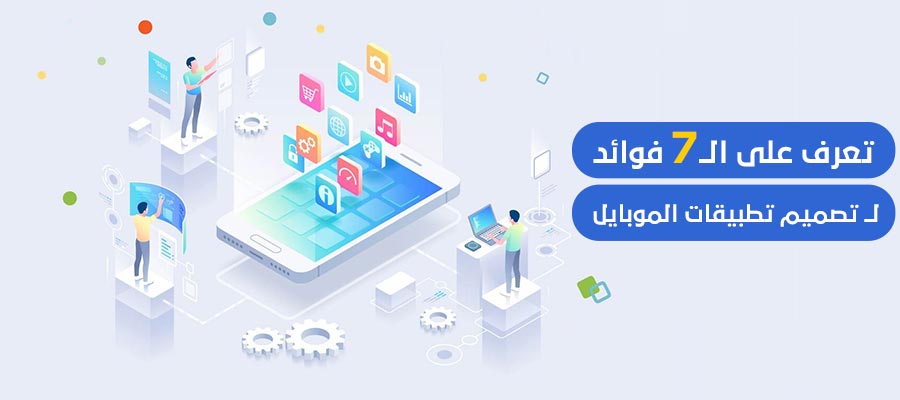 Learn about the 7 benefits of mobile application design
Mobile app design is becoming more popular today among businesses and service providers from e-commerce stores and payment banks to catering and healthcare.There is almost no area in which mobile applications have yet to prove their marketing value or have proven themselves essential for effective communication with targeted customers.
But before jumping on the mobile app design cart for your business, it's a good idea to review exactly what you want and aspire to achieve through the app.Understanding the many benefits of developing mobile business apps is the best way to deal with that, and the next step is to get rid of unnecessary and existing Finally, you should use these benefits to enhance your marketing and achieve your specific business goals.
The most important functional and marketing advantages of business mobile applications are as follows:
Direct communication and targeted geographic marketing
Mobile app design has proven to be fast and effective in attracting customer interest and informing them about new product and service launches, promotions, enhanced features and lower prices.These direct connections also provide valuable information such as demographics, geographic locations, and shopping behavior regarding your products and services, helping you understand demand In the market and improve your sales and marketing strategies.
Increased recognition most builds customer loyalty
Building customer loyalty is a critical and difficult aspect of business marketing.These business applications help facilitate this path by developing customer-brand communication through ongoing advertising.These ads create awareness of the products and services offered and encourage customers to purchase.
Moreover, it also increases brand recognition, so when an app user needs a product / service from the company in the future, there are also chances that the customer will choose to design familiar apps on their heart.
Provide the right application for the right work
When potential customers order a product or service, they are more likely to search for it on their smartphones rather than a laptop. Easier to navigate compared to websites, designing distinctive apps for your business is likely to drive the customer to choose your app, which leads to the purchase of your app.In essence, websites help create brand awareness primarily through and Social media, but apps are where most sales are incurred.
Great tool for engaging customers
Although customer-business communication is important to marketing, reverse communication is just as important to maintaining customer loyalty, because customers love it when their concerns and complaints are heard and resolved in the shortest possible time, which in turn helps companies build brand loyalty, This is where apps come to the desired image, they help increase accessibility of products / services and lower the cost of engaging customers.
Uniqueness from the rest of your competition
The importance of an app in making your business stand out from your competitors cannot be underlined, and at this stage apps are still rare for each company for a particular product.With one app for your company, you can attract the attention of potential customers and capture a large portion of the market share, By then your competitors will be able to do so by then hopefully by effectively managing customer engagement and building strong customer loyalty.
Promotes brand recognition
When it comes to advertising or recognizing a service company, it makes it difficult to distinguish your business from competitors such as newspaper ads, billboards, streamlined billboards, and social media marketing. Businesses that are largely lacking, but the same ads when combined with a high application rate on customer engagement can do wonders to boost your brand loyalty.
Improve vision
In the last few years there has been a major shift in how people search for products and services, where verbal recommendations and web browsing have been the quick solution, so people now prefer to search for things on their smartphones while traveling rather than waiting for reliable software teams and professionals for your technology projects , You can also analyze your project at any time and connect you with the app, marketing and software experts that suit your needs.
Finally, you must review all the features of mobile app design from the company creating distinct mobile applications and achieve your business goals such as Gogan Solutions.